Background research

More than 70% of developmental delays such as autism go undiagnosed at early wellness checkups. Social media platforms and standard development checklists provide emotional support and qualitative information on development but don't give parents personalized feedback on their child's development compared to their peers.


In August 2018 we looked at our website and app current situations and re-evaluate the bear minimum, we did user interviews and traditional research surveys to understand users motivation and needs. We looked at google analytics to observe the most used feature. Then we could identify users groups, mindsets and needs.
We aim to encourage early screening of developmental issues by giving parents the tools they need to pre-screen their children at home. If a child is developing more slowly than expected then the app can alert the parents that they may need extra help. If not, then it can give parents the peace of mind of knowing that their child is just like any other.

"All these apps feels like another task, I just want to know that my baby is doing ok and that I am doing ok"

26 years old, first time Dad
---
User personas & goals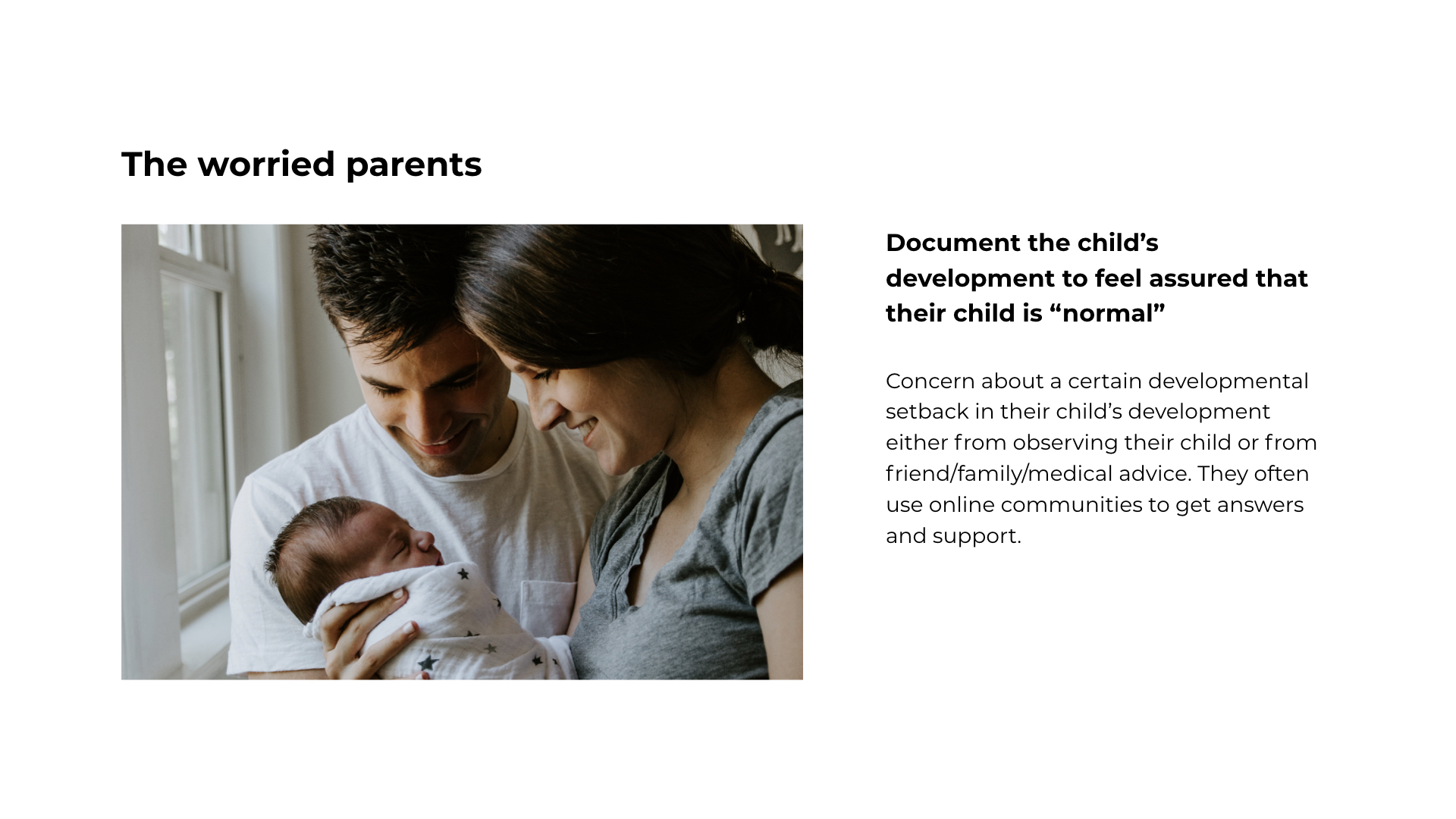 What problem are we trying to solve?
Parents are lacking knowledge and relevant data to track and understand their child's development, so they could get early diagnosis of developmental delays and feel confident with their child's progress
The solution:
Empower parents with personalized suggestions


Insights & Vision
Parents wants to be the driver's seat and become more knowledgeable about their child's development.
Parents struggle with having time to track and remember to documents the child's milestones and often feel like they are failing to do so.

We help parents by making smart suggestions that are most relevant to the child's age or the issue they are trying to monitor

We use evidence-based tools that aggregate and organize data that the parents can record, and understand the percentiles and statistics for their child's development
The concept

A personal pocket-guide to child development. Helping parents assess their child's progress and become better attuned to their needs.
---