the smart baby monitor app,
Roles and responsibilities
UX/UI, and marketing design.

User research & strategy transforming the founders vision to a product.


Validation and user testing

based on the data scientist and a child development doctor research.
babyTRACKS is a mobile app that empowers parents to learn more about their child's development. It is a personalized and quantitative child development tracker that allows parents to see if their child is ahead of, matching or behind the curve.
Product Architecture
---
Diary
Add new milestone
Explore milestone percentile
View past milestones
---
Explore
Browse future/past milestones
Search for milestones
Filter by developmental area
Add milestone to dairy
---
Progress
View a progress report per development area
Create a new report per development area
---
More
User profile
Child profile
Add a child
Settings
Products main user flows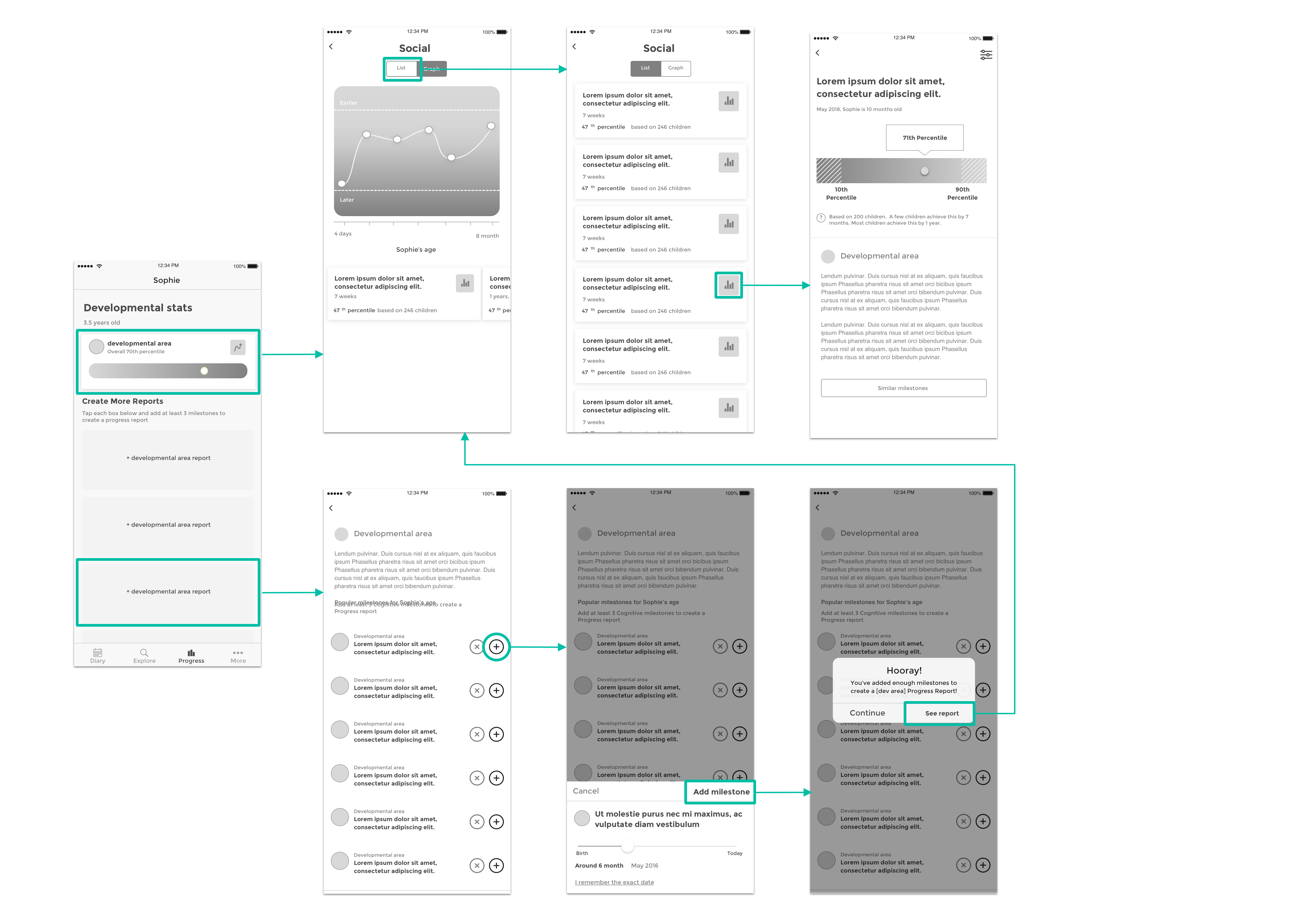 ---
UI & Interaction design

Track milestones in the Diary
When the child reaches a milestone, the parents wants to keep track of the moment it happened, so they can get reassured that the child is within the normal range of development.
Actions:
Explore the child's percentile per milestone.
Add a new milestone using free text or auto-complete suggestions.
Inspect past milestones.
---
Explore & prepare for future milestones
When parents are trying to understand their child's development, they want to see the most relevant up coming milestones, so they get prepared for the milestones their child hasn't achieved yet.
Review milestones in chronological order arranged in age buckets.
Add the milestones reached.
Search for a milestone.
Filter milestone by developmental area.
---
Understand the development with the Progress Report
When parents are tracking the child's development, they want to understand how their child is progressing over time, so they can know if they need to seek professional help.
Review the progress overtime per development area.
Get an overview of the total percentile per developmental area.
Create a new developmental report by adding milestones from suggestions.
---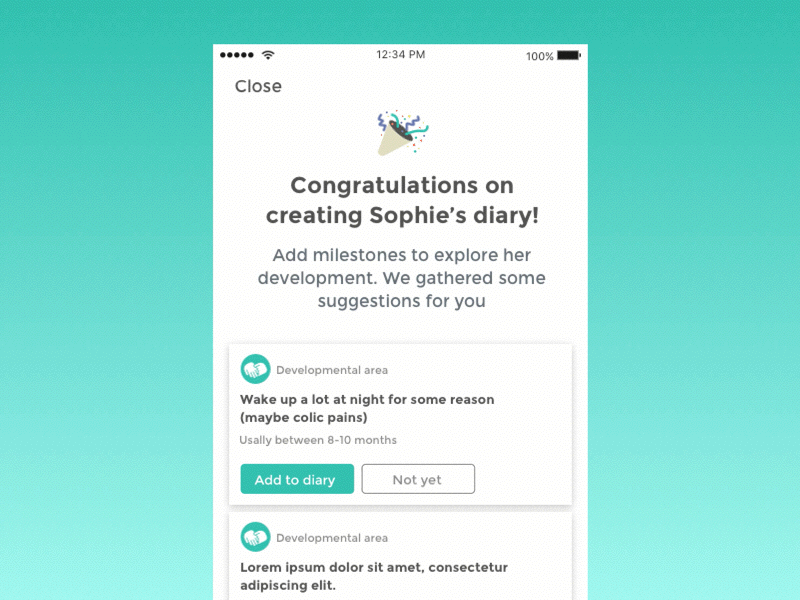 On-boarding to babyTRACKS


The challenge - We had was getting the users on their first use to capture as many milestones and making sure they understand the value of the app.

The solution - after the sign-up we suggest the most relevant to the milestones based on the child's age and popularity. So the users lands on a diary that already have data, they can immediately start exploring the statistics and understand the value of tracking and analyzing their child's development.
---
Success Metrics
1 day retention rate:
50%
of users
30 day retention rate:
30%
of users
90 day retention rate:
17%

of users


* Market standards are about a 6-10% retention rate for 60 day.
* Due to limited funding and resources the following numbers displayed are without a notifications system and retargeting.


---